Barbara Wirth
is an artist and illustrator who loves using lines and colors to stir up your feelings – giving you a relaxed way to feel them and voice them.
"I love a story! And, I love being a part of telling it through my gifts and talents," Barbara shares.
"Curiosity stirs before beginning with pen and watercolor. Standing quietly to reflect, I visually embrace each animal, or object, wondering THEIR story. With delight I start … honored to paint in luscious colors or leave, black and white, what I feel they trust me to reveal."
Barbara's Portfolio of Original Images
We love hearing from our readers! Whether you have questions or comments about the book, questions for Mardie or Ellie, or you would just like to share your story, please don't hesitate to
get in touch
.
Phone
866-986-BOOK
(866) 986-2665
Address
P.O. Box 1900
Penn Valley, CA 95946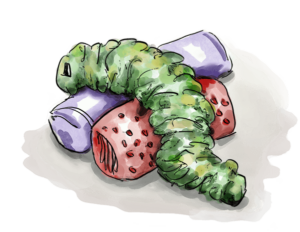 Address
P.O. Box 1900
Penn Valley, CA 95946