Release Date
November 14th, 2023
Meet Ellie, a sick little fairy who has lost her beautiful hair and her magical powers. She doesn't even have the strength to open her fairy wings. Come along with Ellie as she learns to be brave and strong through cancer, treatments, and loneliness. Discover how her baldness saves the village at a terrifying moment!
This heartfelt and inspiring book gives hope to children of all ages facing cancer and other childhood illnesses. With beautiful illustrations, Ellie's story will gently remind a hurting child that they can be heroes to others.
A Portion of All Proceeds Support Childhood Cancer Awareness.
Pre-ordered books from the publisher will be signed by the author!
Buy the Book Now
Mardie Caldwell Christensen
&
The Real Ellie
Ellie The Brave, Bald Fairy came to life at a time when the real life Ellie was facing a stage 3 Wilms kidney cancer diagnosis. Her grandmother, award-winning author, Mardie Caldwell Christensen, began to tell her stories to encourage and inspire her, and to let her see she was not alone.
What a great story of power and strength… Ellie had it in her all along just got to be reminded of her greatness!
This book was so touching, and I think it'd be so great for little girls who are battling cancer to read. My oldest daughter, Frankie, was diagnosed with stage 4, high-risk Neuroblastoma at 2 years old. Her prognosis was not good. She endured many different treatments over the span of three years. (Her disease was very stubborn and wouldn't go away) Some treatments were excruciatingly painful for her. But she shocked her doctors by surviving. Frankie is a walking miracle, and by the grace of God, with us today at age 9.
What an incredible story! As a cancer mama, it's incredible to have resources that explain what it's like, and the feelings that a child might have as they go through cancer treatment. Cancer diagnosis can be very lonely, there is comfort in knowing that there are people out there that want to help. Fairies, and princesses are my daughters, absolute favorite. She loved the illustrations of this book, and the story about bravery.
We love hearing from our readers! Whether you have questions or comments about the book, questions for Mardie or Ellie, or you would just like to share your story, please don't hesitate to
get in touch
.
Phone
866-986-BOOK
(866) 986-2665
Address
P.O. Box 1900
Penn Valley, CA 95946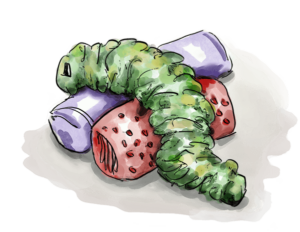 Address
P.O. Box 1900
Penn Valley, CA 95946