Ellie the Brave, Bald Fairy
Shipping for 3-5 day delivery is always FREE (within the US). However, if you'd like a faster delivery, please choose a different payment shipping method at checkout.
Interested in bulk pricing?
Meet Ellie, a sick little fairy who has lost her beautiful hair and her magical powers. She doesn't even have the strength to open her fairy wings.
Come along with Ellie as she learns to be brave and strong through cancer, treatments, and loneliness. Discover how her baldness saves the village at a terrifying moment!
This heartfelt and inspiring story gives hope to children of all ages facing cancer and other childhood illnesses. With beautiful illustrations, Ellie's story will gently remind a hurting child that they can be heroes to others.
32 pages – Release Date November 14th, 2023
Hard Cover – ISBN 978-1-935176-21-3
Soft Cover – ISBN 978-1-935176-22-0
FREE sticker and full color bookmark with every purchase!
For orders outside of the US, please call (866) 986-2665
Ellie the Brave Bald Fairy Reviews
Happy Readers!
Of all of the fairy books available today, no other book compares with the courage of standing up to cancer and all of the challenges that come along with it. This book reminds children of how strong they are! These are just a few of the readers who have found strength in Ellie's story.
"As a healthcare provider who works with children dealing with cancer in their families, I strongly recommend this delightful book.
The wording is appropriate for school-aged children. Ellie the Brave Bald Fairy comes from a place of fantasy and imagination that pediatric patients often use to better cope with illness and change. Ellie the Bald Fairy's strength comes from her love for her friends; her compassion for others makes her brave. This story beautifully normalizes and validates a child's cancer journey. The real Ellie often created fairies in her art work while attending art therapy classes."
"Ellie the Brave, Bald Fairy is a beautiful tale of a young fairy who has lost her hair. The book so elegantly captures the feelings of fear, sadness, and loneliness a child experiences when sick. Yet, Ellie also learns she is safe, brave, beautiful and still herself despite being bald. May all young cancer patients be made to feel the same throughout their journey. How wonderful to have a book available to share with children as they face cancer or other illnesses that causes hair loss."
We love hearing from our readers! Whether you have questions or comments about the book, questions for Mardie or Ellie, or you would just like to share your story, please don't hesitate to
get in touch
.
Phone
866-986-BOOK
(866) 986-2665
Address
P.O. Box 1900
Penn Valley, CA 95946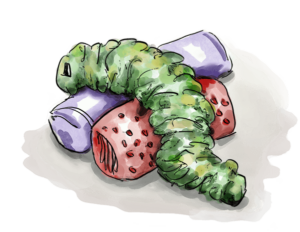 Address
P.O. Box 1900
Penn Valley, CA 95946