Author Mardie Caldwell Christensen weaves a sweet tale of strength and courage that grew from the cancer struggle of her granddaughter Ellie. Ellie was diagnosed with stage 3
Wilms tumor
in December, just before Christmas. After an emergency surgery to remove her kidney and the tumor, Ellie received both chemo and radiation. During Ellie's healing process, one of the things she learned to live with was hair loss.
Today, cancer-free Ellie is artistic, theatrical and full of life. She enjoys movies, games, fairies, unicorns and spending time with those she loves! She instantly brings joy wherever she goes with a heart of gold and a smile that lights up the room. Ellie's strength comes from God, her own cancer journey and helping others.
"You know what the best part about having cancer was? Being loved! Be brave, be strong!"
We love hearing from our readers! Whether you have questions or comments about the book, questions for Mardie or Ellie, or you would just like to share your story, please don't hesitate to
get in touch
.
Phone
866-986-BOOK
(866) 986-2665
Address
P.O. Box 1900
Penn Valley, CA 95946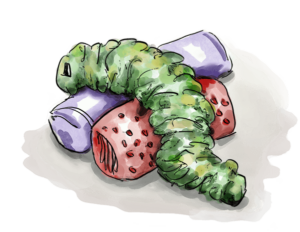 Address
P.O. Box 1900
Penn Valley, CA 95946